Adapters and support elements (TX, TXO, TXP)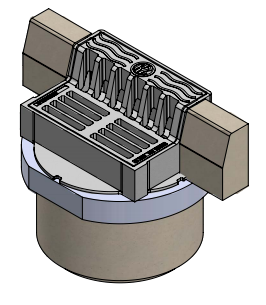 Adapters placed under drains (sewage drain finials) made from plastics and marked with TX symbol are prefabricated elements in class D400 used to construct tight surface finials of sewage drains, rain water wells, and other devices used to receive surface water. Adapters are the direct supporting/load-bearing element of sewage drain finial that simultaneously ensures support on the whole load-bearing surface of device's body. It is placed directly on: DN500 or DN450 concrete sewage drain rings, cones, rings, relief and self-levelling elements made from concrete or plastics, and telescopes. Drain openings in the adapters are placed in a centric or eccentric manner and their construction is adjusted to the dimensions and structures of sewage drain finials.
Adapters, support and protective elements marked with TXP symbol, are prefabricated elements made from plastics that constitute as a direct support for telescope finials of plastic wells placed in the area of vehicle traffic, as well as elements that are the foundation and cover for street boxes manufactured acc. to PN-EN 74081, DIN: 4056, DIN: 4058, DIN 4059, etc. Elements in the form of slabs, pyramids, or rings placed directly under infrastructure fitting elements both in the structure of road surface and roadside create a seamless construction element.
Adapters for manholes and inlets, supporting and covering elements for infrastructural utilities marked with the symbol TX, TXP, TXO are intended for:
foundation of the drain top, ensuring the entire load-bearing surface of the body of an even, tight, durable support on manholes and rainwater drains made of concrete and plastics;
to enable assembly (height and diameter connections), connection of the surface top of the manhole with the manhole body, self-leveling inlet embedded on/in the road surface;
direct and indirect support, embedding the tops of telescopic manholes and inlets of plastic manholes in the road surface structure;
structural support (base, foundation, covers) for telescopic tops, self-leveling plastic manholes and street boxes, elements of infrastructural utilities;
securing the road surface against the negative impact of devices and finials subjected to traffic and environmental loads;
structural support for the reconstructed or newly installed road surface around the top of a street inlet or manhole.
Adapters for inlets with curb preparation.
Adapter for 300x500mm inlets and curb-roadway inlets.
Angle adapter for 300x500mm drains.
Supporting and protective adapters for manholes and telescopic inlets.
Universal supporting and protective adapters for manholes and telescopic inlets.
Adapters for manholes, telescopic inlets.
Adapters supporting 425mm telescopic hatches.
Supporting adapters for street boxes.